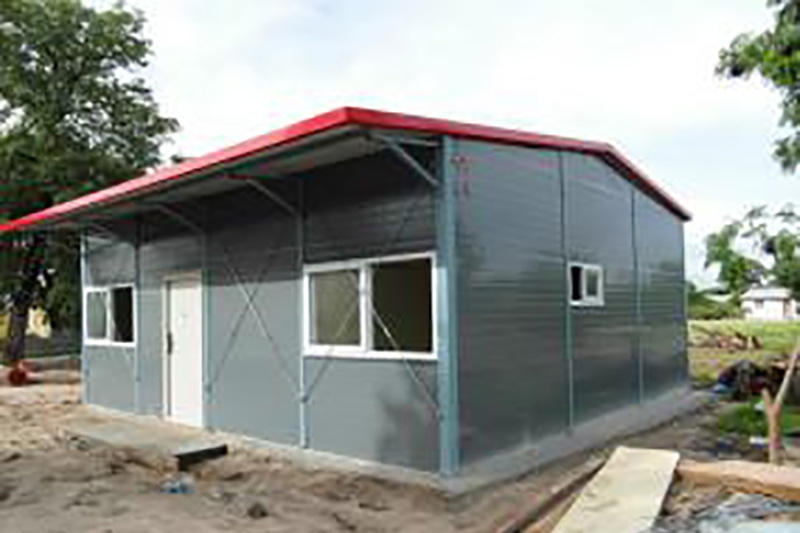 Project Name:
Family Living House In Namibia
Introduction of the project:
It is hot and dry in Namibia. The wall panel of this house is EPS sandwich panel. And the frame is galvanized steel structure frame. It is strong and not easy to rust. And it can use more than 30 years. And family living house is a two-bedroom house. So it can hold at least 2 people to live. And there are also the living room and kitchen and washing room. Total area is 48m2, not big but cheap and cozy.
The advantage of the house:
1. Easy to install: 4 workers can install 130 square meters one day.
2. Low cost: The price of one house is much lower than the brick house.
3. Long life span: It can use more than 30 years.
4. Safety structure: shear wall and cold-formed thin-walled light steel structure;windproof grade: 10.
5. Wide application: Temperature:-20℃~+50℃. As for the High humidity environment a complete set of galvanized raised floor can be used.
6. Widely used: This house can be widely used as office, meeting room, dormitory,refectory, shop and son on in the field construction of road, water conservancy,commerce,military tour and so on.
7. Timely service:We will assist to buy the related furniture and equipment such as sofa, table, chair,AC,washroom equipment, etc.We also equip the water and electrical system based in Namibia standard.